PhotoBooker is an online marketplace that connects you with clients who are searching for photographers in your area. When you sign up to join PhotoBooker, you will need to create your first listing, where you upload your portfolio, your rates, and other information about your photography services.
Sign Up
Ready to sign up and join PhotoBooker? Get started by going to our Sign Up Page, and choose For Photographers.


Once you create your PhotoBooker acccount, you can continue the following steps to create your first listing:

1. Setting your Travel Distance
2. Introduction
3. Social Accounts
4. Availability
5. Rates
6. Portfolio
Travel Distance
Entering your physical address and travel distance radius helps us match you with clients in your area! Once you enter your street address and select your travel distance, the map on the right side of the screen will display your service area.




Introduction
We know your photos speak for themselves, but why not share a bit more? Allow your future clients to catch a glimpse of your personality by adding your profile image, any special photography traits, your bio, and interesting facts and awards you may have received.
Upload your profile image to show who is behind the lens!
Choose up to 6 photography traits to let your clients know what you're skilled at
Finalize your choices, and save!
Write a few words about yourself to share your personality with all future clients
Add your experience level and choose the languages you speak
Write some fun facts about yourself, and share any awards or recognitions
Let everyone know what's in your camera bag
Continue!

Social Accounts
Add your social media information, website URL, or additional social media links so our team can review your existing online presence.

Availability
Your availability is directly related to the amount of bookings you will receive, so be sure to set these to align with your schedule. You can choose your availability based on specific days, and even add multiple time slots per day.
You can also sync your Google Calendar so that you don't run the risk of double-booking or missing appointments. For an in-depth guide on how to connect your Google Calendar, you can refer to our guide here.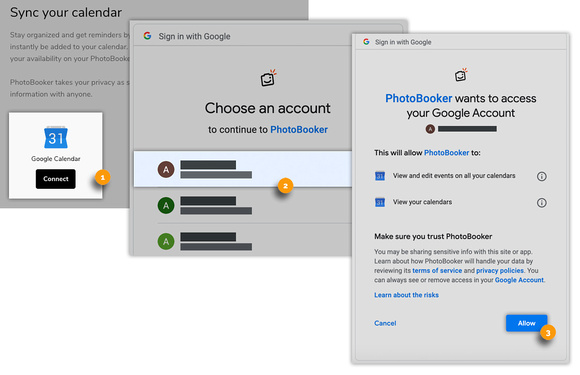 Rates
Here is where you determine your hourly rate. We empower all of our photographers to name their own price. When setting your hourly rate, make sure you account for:
Time for the photoshoot

Travel time within your specified radius

Culling and color correcting images

Delivery of a gallery within 48 hours of the photoshoot

10 digital downloads (per hour)
Please note that the minimum hourly rate is $50/hour, and a 20% service fee is applied.
Portfolio
It's time to shine. Choose the genres of photography you wish to offer through the PhotoBooker platform.
For each chosen genre, you'll upload your portfolio images that correspond to the photography genre. When uploading your portfolio images, keep in mind these requirements:
At least one shoot is required

A minimum of 10 images is required per shoot type

Maximum of 40 images per shoot type

Images must correlate to shoot type

Maximum image size = 36MB

Images cannot be watermarked
What's Next?
Sit tight while our PhotoBooker team reviews your portfolio and profile listing. We'll be in touch within 1-2 business days once your listing is approved!